C-Rayz Wallz on Kung-fu and losing loved ones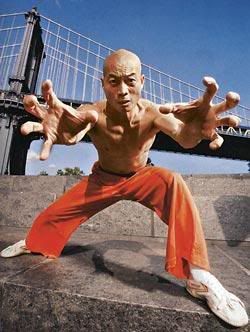 Shaolin monk Shi Yan Ming will put the pain on you
This just came from Allhiphop.com:
C-Rayz: I lost all my cousins man; I went to high school with them, I played basketball with them and I studied Kung-Fu with them. My cousin Trion was murdered on the corner of James Monroe High School. A kid just toasted him. My cousin did Wolf Ox. Wolf Ox is this form of Kung-Fu that only dudes from Bronx River Houses know. So the kid was like, "No, I'm not fighting you. I know about the Wolf Ox s**t. I'm not going to fight you." So then "Pow!" He pulled one in his chest. So it's like, after that, the kids that I stepped up with, kids that I got locked up with….Everybody died. It's pitiful. Everybody.
***
If you know about the Wolf Ox style in the South Bronx, please email me about it at abanjoko@gmail.com . How did this style come up? Who began to pass it on? How does it work?