HHCF EXCLUSIVE: World Champion Grappler Denny "300" Prokopos
Denny "300" Prokopos is one of the newest rising stars in the grappling world. When I first met him (at the age about about 14) Denny Prokopos was that kid on the mat with a ton of skill and a heart that would not quit. Today, Denny Prokopos represents America's new breed of grappling elite. Recently, he won the No Gi Mundials in Los Angeles. It features the best of breed grapplers from around the globe.
Before he had this title, I interivewed him in Lyrical Swords Vol. 2: Westside Rebellion. I have no doubt, that he has a magnificent destiny in the grappling and MMA arenas.
Denny Prokopos in his final match at the no gi Mundials!
HHCF: When did you begin training jiu jitsu and how old were you?
DP: I began training in jiu-jitsu on February 12, 2001. I was twelve years old. I remember when I was about eleven years old I was at suncoast videos looking for pro wrestling movies and I came across UFC's 3 and 4 and my mom bought me the videos. I watched those videos almost everyday. I loved watching Royce Gracie submit everyone using Jiu-Jitsu. Then I asked my parents to let me do jiu-jitsu and they said no. I continued to beg them everyday and knew that sooner or later they would give in. I ended up being right, I made them tap out from all my nagging.
HHCF: At a certain point, you began to focus more on no-gi, why is that?
DP: Well for some reason no-gi always had more appeal to me. I also began to take private lessons with Eddie Bravo when I was fifteen and he began to open my eyes and show me the truth about jiu-jitsu. But what really did it was when my former trainer tried to beat me up. I decided to take the no gi path because at the time no gi didn't have the politics that the gi jiu-jitsu did.
HHCF: How did you prepare mentally for this event?
DP: I have always believed that I had what it took to win a world title or to be the best, regardless of what some negative people have told me throughout my years of training. When I was 15 I lost to Kron Gracie, and after that loss I went back and analyzed my performance and figured out that he didn't beat me because he was a better grappler but because he was better prepared mentally. Ever since then I have been on a path to master my mind and my emotions. But as far as mental training for this event, I made sure that I rolled hard at least 10 minutes a day with Jake Shields, that always keeps my ego in check. I visualized my hand getting raised. I also did "shadow grappling" about ten to fifteen minutes a day. And dialoged on a daily basis with all the people I look up to, in order to keep me in check. I also watched grappling footage and tried to stay as positive as I could.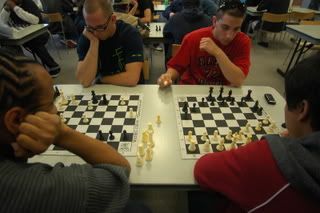 Jiu Jitsu champions Paul Schreiner (L) and Denny Prokopos (R) hit the boards at the first Hip-Hop, Chess & Life Strategies event in San Jose.
HHCF: How did you train physically?
DP: I trained six days a week anywhere between four to six hours a day. The training session include rolling, drilling, and conditioning. I went to 10Th Planet for about four days and trained there with Eddie Bravo when I was six weeks out and went back to 10Th Planet to train for two days again when I was four weeks out. Most of my preparation was done at fairtex with Jake Shields and our crew. But I controlled my whole training routine. I also taught about two private lessons a day, which is a form of training. What was also pretty cool is that this was the first time I didn't have to cut weight because when im in shape I walk around at about 155-157lbs. and the weight limit was at 162lbs. I weighted in with all my gear 158lbs.
HHCF: I know you have battled through knee injuries to get to where you are today. How did you keep faith through your rehab that you could still win at the top levels?
DP: In my almost seven years of training I have had about seven serious injuries or possible career threatening injuries whatever you want to call them. Throughout the years I have just learned to deal with them. I really believe in myself and I refuse to put limits to what is possible. I remember when I had my second serious knee injury and my doctor told me that I might never be the same or be able to compete at the level I was once at. I turned around and told him watch im going to win a world title one day and no one is going stop me. But about a year and a half ago I meet Dr Peter Goldman who is also Bj Penn's and Eddie Bravo's and the who's who of the fight game doctor and he has kept me healthy. That man is a magician. He's the best I would refer that man to anyone he heals people with all kinds of injuries and diseases.
HHCF: What is your most memorable moment of that day?
DP: There were a lot but there are a couple that really stick out. Eddie Bravo was supposed to corner me originally but he had a seminar booked in Toronto. He had booked it a while in advance to leave at like 10 pm so he could still do the seminar and still be able to corner me, but there ended up being a snow storm and he had to leave at 3, which are what time, my divisions started at. So Joe Rogan corned me instead. I remember getting my named call over the microphone and I went and I got Joe to walk over with me to weigh in right before the match. I remember saying to him "Dude, remember when I got my brown and you told me that I could be the best in the world and that I could be as good as Marcelo Garcia, I never forgot that". He was like "Yeah, you can. Today is your first big step toward that. You're going to win the world title today."
HHCF: Do you have any MMA aspirations?
DP: I do I'm supposed to fight this year. But im taking my time with it. I think that there are way too many people fighting too soon in MMA. MMA is no joke and when I fight I really want to be ready. Plus im still 19 there is a really good chance that if I put in the same amount of effort into my striking that I did to my Jiu-jitsu I'll dominate. But im really enjoying Jiu-Jitsu right now. I love training, teaching, and competing it's my passion. People always ask me what I do for fun. And im like dude I do Jiu-jitsu for fun. I mean think about it Jiu-Jitsu is like a real video game you get to choke people out for fun haha. And then you have to master different levels of offense and defense. It's so cool because you always learn and evolve as long as you keep an open mind.
HHCF: Any last words?
DP: Of course I've always got something to say haha. I'm really happy that Jiu-jitsu is blowing up right now. I believe that right now the second explosion is happening since Royce Gracie came out in the old school UFC days. I would like to thank god, my family, my grandmaster Eddie Bravo (his new book Mastering The Twister and Mastering the Rubber Guard dvds are out), Joe Rogan (the best comedian in the world), Jake Sheilds(most under rated welterweight in mma), Gilbert Melendez(the toughest guy I know),Dr Peter Goldman(goldmanhealing.com),Darren Uyenoyama(he's going to be the next big thing in mma), and to all the other people that have ever supported me. Also special thanks to my sponsor's meleefightgear.com they got some of the coolest gear in the industry. Philz Coffee the best coffee not only in San Francisco but the world "one cup at a time baby" check them out at philzcoffee.com. Also Eternal Unltd they have some of the coolest shirts in mma check them out at eternalunltd.com. If anyone is interested in Jiu-jitsu Private lessons or seminars contact me Prokopos300@gmail.com I got some really good rates.
Peace Out!!
© 2008 Hip-Hop Chess Federation