HHCF Congratulates Denny Prokopos for his victory at the No gi Mundials!
HHCF wants to give a big round of applause to Denny Prokopos and the 10th Planet Jiu Jitsu team. Denny won the no gi Mundials (grappling championships). Some of you may remember the interivew Adisa Banjoko did with him in
Lyrical Swords Vol. 2: Westside Rebellion
. Denny has been on the fastrack to martial arts greatness for a long time. Denny has been seen at every HHCF event since its inception. He is a true warrior, and the HHCF is proud to watch his ascention.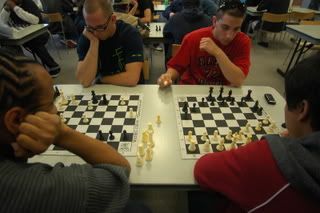 Denny Prokopos on the right putting it down at the 1st Hip-Hop Chess & Life Strategies event in Feb 2007.